This is Maggie's 1980 single Good Ship Earth.
Maggie's songwriting began in the mid 1970's with a song about her beloved horse 'Gypsy' 
Maggie  is a successful, international recording artist with chart (Top ten) records in the United Kingdom, Europe, Australia and New Zealand.
Maggie's song writing talent, vocal expertise and dynamic live performances have taken her throughout Australia and around the world.
Maggie's catalogue includes a considerable number of published works. In addition there are a number of songs written with other co-writers.
Maggie is a 'Full Writer Member' of the Performing Rights Society (PRS).
The criteria for full membership are five (5) commercial releases.
Maggie uses Logic Pro Studio to compose her songs.
NB: The quality of 'some' of the following recordings is due to the method of transferring from vinyl or in some instances cassette.
"Written for a proposed film on the life of J.M.Barrie the author of 'Peter Pan".
Not unusually the lyric of 'The Boy Who Never Grows Old' contains personal and private meaning using Peter Pan as the analogy."
"Watching the River Thames flow by my window set me to thinking of the marvelous sights along its journey to the sea and how all the oceans and rivers of the world are connected."
B side "Girl with the Laughing Eyes"
Maggie's 1980 single "Good Ship Earth"
"The Boy Who Never Grows Old" (Mitchell/Britton/Mitchell) (Sung by Maggie)

"Bright Water"(Maggie Britton)
"Whatever Happened To Josephine" (Maggie Britton) The lyric of Josephine is loosely autobiographical.
'Honey Whatz That All About' (Malveen/Britton/Merlini) (Sung by Lesyah)
"Make My Day" (Malveen/Britton/Merlini) (Sung by Lesyah)
"Stop Messin With Me"  (Maggie Britton) (Sung by female trio Chantel). "Here I am expressing my frustration with the music industry. At times I felt I was, metaphorically speaking, swimming through a sewer to get to my life long love which is the music".
"In 1980 whilst musing on China I was inspired to write my thoughts into a simple pop song. The intervening years have seen these random thoughts become reality."
"Peeking Boogie" (Bejing Boogie) (Maggie Britton) (Sung by female trio Chantel)
"Written after Jason spoke to me about a trip to visit his friends who lived in Dreamtime Avenue, in Maryborough Queensland."
"Dreamtime Avenue" (Scott & Britton) (Sung by Jason Lee Scott)
"Lyrics drawn from a conversation about family."
"Good Old Days" (Scott & Britton) (Sung by Jason Lee Scott)
"My thoughts regarding harmonious co-existence."
"It Starts With You and Me" (Scott & Britton) (Sung by Jason Lee Scott)
A fun side project produced two songs for Maggie & her band 'The Royals' and to make it all complete the disks were released on the "Monarch" label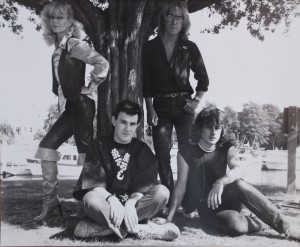 "Charlie" (Maggie Britton)
Written tongue in cheek, but when released the reviewers called it "the cheekiest record of the year".
"All The Queens Men" (Maggie Britton)
The idea for this lyric came from the news coverage of Charles and Diana's engagement when I sensed that his feelings were not sincere.
"Boys From Brazil" (Maggie Britton)
The inspiration for "Boys From Brazil" came after we unknowingly purchased a former home of one of the 'Great Train Robbers'
"Better Than Me" (Britton/Mitchell & Mitchell) (Sung by Zane Mitchell)
For anyone who may be interested in the songwriting process the critique from the U.S.A. of the song "Better Than Me" written with my co-writers Zane and Heath Mitchell is included here following the demo track of the song.
'Critique' Great, strong, evocative melody – perfect for this song, soaring over the groove here. It is especially satisfying when the title is repeated occasionally. We wouldn't recommend that you change anything about this melody. Very good, easily remembered melody on this one!
Overall, these lyrics are a nice balance of conceptual and descriptive. The choruses sums up the meaning of this song nicely! You have a modern, yet classical set of lyrics here which include some fun twists ("symPATHY orchestra playing my strings" and "One in a million violins" and "The heroine in my best seller") as well as lines which sound cool, but which are oddly contradictory ("She's like a nursery rhyme in a fiction thriller") – THAT one made us stop and ponder the meaning – in a serious song such as this, you might want to re-think THAT one. Verse 2 is chock full of information and always interesting. This could be taken as "Confessions of an Ex Junkie" after reading the lines: ("She knows the junk I took" and "My fix no longer burns me") or a straight-forward love song, perhaps both. It's really good to have someone who knows another so well that they actually take care of them better than they take care of themselves. Sweet, painfully truthfull song!
A classic structure to be sure. Verse, Chorus – Verse, Chorus, brief Instrumental, DIFFERENT worded Chorus, reprise, fade! Just perfect for this type of song.
A Royal Command Performance at the Theatre Royal Drury Lane in London before members of the Royal family being among the highlights of Maggie's many international performances, particularly in the United Kingdom.
Discography
"Live at Lovestreet" 14 track live alum, 2016
"Ditto" 12 track smooth jazz album Oak Records January 2011
'Bandstand's Singing Sweethearts' Festival/Mushroom Spin March 2001. Includes two of Maggie's hit singles 'Morning Dew' and 'I'm Into Looking For Someone To Love Me' Available through all Record outlets.
"The Best Of Maggie Britton" Independent 1993
"Maggie Britton" Maggie Britton Monarch Records U.K. 1980